Sunday July 22,
Topic: Vacation 2006
We were supposed to get a fairly early start leaving Anns to go back to my mothers & meet up with my uncle who I have not seen in nearly 10 years. But I had developed a cold & was hacking, coughing & generaly not sleeping too well- & the kids were up late playing video games- their internal clocks are set to night owl- I try at home to get up by 10 am on non work days & am still usually the first one up! By 930 though I had to get up & get them up the re-packing of the car was hanging over my head & so I rousted every one in my family & insisted they come help at the car packing. Once this was done we said our goodbyes to Ann & family headed back to my mothers place.
The Sunday midday drive thru Boston was minimalized by taking 95 for a change of scencery I hadn't been on that road in nearly 10 years. I especially enjoy the part on the way into Boston where you are on rte 1 I remember my father telling us about all the really cool signs that were there & I also remember a few which are no longer there.
We arrived at my Mother's house around 1:30 or so & We waited for my uncle to appear. He lives on an Island & we were supposed to go to dinner. So we thought he'd show up around 4 or 5. at 6 we started to wonder where he was. By 7 my mother decided to call his cell phone. she got voice mail. She left a message & we gave him annother 1/2 hour & went to dinner at the 99 again, which the kids were happy with, my mother & I were mostly just a little worried. The next day my mother got an email from my uncle apologizing for not being able to get in touch. aparently there was a storm which took out phones etc he said he was emaling from work because he had no services at home still. The r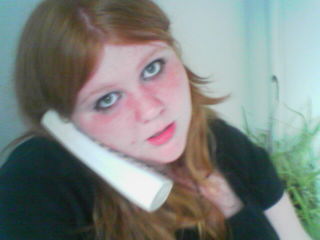 eason he didn't show up was that he just moved there & didn't have his island resident status ironed out & couldn't get a space on the ferry!He did state in his email though that we're welcome to come visit him next year on the island. I'm excited- I've barely even been to Cape Cod & have never been to the islands at all. The only Island I've been on ever is Swans Island Maine.& only for a day!

<< What Miss 16 did on her summer vacation <<
Posted by Becky at 12:01 AM EDT
Updated: Saturday, September 2, 2006 10:46 PM EDT