What Am I Thinking?
Now Playing: The Boxer by Simon & Garfunkel
Topic: Family Business
I'm thinking that on my 'real' blog I'm at that 100 post point, the next one I do will be # 100. & that's why I'm doing this here, I don't like pressure to perform, I duck stuff like that, of course, I could just ignore the number, it doesn't really show up in the blog itself.

I'm thinking that cat is getting out of control- She's always been crazy but lately has been seeming to calm down. All that has changed tonight, she's racing around the house jumping between pieces of furniture & miaowing like mad, I'd say she was in heat but she's been fixed, do they still act weird like in heat if they don't have heat?
I'm thinking if Cam doesn't quiet down & stop playing with dinosaurs in bed I'm going to have to shut down the computer so I can turn off the light in here & get him to fall asleep that way.
I'm thinking I may not be able to go on vacation like we did this year next year. Unless things change a lot in regards to gas prices & costs in general.

Which brings me to thinking about how in the last few years while the news has been getting worse & I've been hearing from my Mother, Grandmother, Ex & others how bad things are my own personal finances have been on the upswing & I've done really well just by working lot. & how now I hate my job SO much because I've been doing it day in day out for way too long. But because I hate my job I've been calling in sick a lot & good attendance is one of the 5 things you have to have in order to try to get promoted from taking calls all the time to doing other things there. (like listening to calls & being in charge over the peons who take calls!)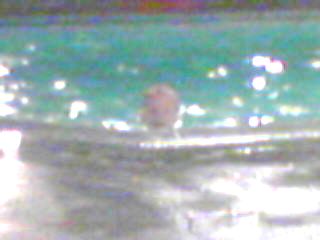 I'm thinking about last night when the kids got an hour & a half in Chrissie's bf's apartment complex pool. which was all the time that was left by the time we arrived after dinner & a trip to Target to get Lois' school supplies (the highschool doesn't tell you what they need until after school starts) It was a lot of fun for them, they don't get pool time too much, just the various rivers, not that the river is a bad thing, they love it & I do to, it's a lot more secluded than the pool situation & I'm not embarassed to go swimming there like I would have been at the pool with other people around.
I'm thinking I was going to watch the 11 oclock news & it's starting in 6 minutes. Now I'm thinking what a great invention dvr is, I'm not a sales person at work & I hate having things crammed down my throat by sales people so I rarely sell because of that but I can sell the hell out of dvr boxes, I know whereof I speak!
I want to watch the 11 oclock news because I didn't watch the 6 oclock due to a tv show I wanted to dvr which was on at 6, I don't do that very often (the news is all important) But it's my day off so I don't feel like I really need to hear too much more about that crazy guy who may or may not have killed that poor little girl in Boulder CO. The weather & anything local going on should take care of it for me tonight!
I'm thinking that Lois might be having an argument with the BF, that would be unusual, they're both so simpicato that I'm reminded of that famous saying (I don't know who said it) but it goes that if 2 people in a relationship agree on everything one of them is unneccesary!
I'm thinking Val will probably be down in a few more minutes modeling more clothes, she's got a bunch of handmedowns lately & is trying stuff on constantly, she came down about a half an hour ago & requested I do something about the legs of her jeans, she said they said at school as an addition to the dress code that your jeans legs have to reach your feet but can't bag down below that. She's got a lot of jeans which are way too long because the family member we get them from is very tall & skinny where Val is just sorta skinny & not partic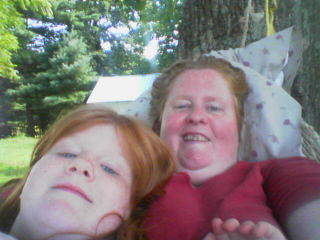 ularly tall
I'm thinking the hammock was probably one of the best inventions ever, I spent about 2 hours out there reading & talking with Val & then Lois when she got home & it was a lovely time, very restful looking at the house, the garden & the yard, all of which need attention & all of which I was able to ignore without feeling too guilty.
I'm thinking Chrissie's got a tough row to hoe when it comes to that dog out there. She barks at me through the window when I cough at night! & also barks at everything & anything that moves outside, I've seen her bark at bees & also try to eat them!
I'm thinking the phrase 'tough row to hoe' could be applied to my entire garden right now. All that's really left is the Watermelons & Tomatoes. The Beans are picked clean, the Peas are all gone, there's a few stunted Cucumbers which may or may not reach edible proportions. The Summer Squash & Zuchini are also looking few & far between, there's a few there but as to wether they'll get big enough to bother with or not anyone can guess. Next year I'll do better, (that's what I said last year too- it's just not interesting to weed once the plants are going along on their own. We had no luck for the second year with the pumpkins. That seems so odd to me because the first year in VA with the ex we planted pumpkins & got a little one & I haven't done anything different, we get lots of flowers but no pumpkins. at least the squash type veggies & the watermelons are not rotting on the vine like last year!
I'm thinking I want to get long layers cut into my hair but because the last haircut I had was so awful (3 years ago) I'm afraid to trust anyone with my hair!
I'm thinking dvr or not I've gotta get on with the news because I don't want to stay up too late because I don't want to be tired all day tommorow!
Posted by Becky at 11:24 PM EDT
Updated: Saturday, August 19, 2006 11:25 PM EDT