All in my days off
Now Playing: Always by Saliva
Topic: Family Business
All in all a pretty good 2 days off, I started the day, Tuesday with a meeting with mr 7's teacher, since I vote at the elementary I thought I'd vote before the meeting so I left about 10 minut
es earlier than I needed to be there ontime, well I was dead wrong, the line looped around the hallway twice! I didn't even try to get in it- I was afraid I'd be late for the teacher confrence, it's a good thing too because the gym where the voting took place is downstairs & at the back of the school, it has it's own seperate entrance & a hallway to get to the downstairs class rooms (where the 2nd grade classroom is) they had the doors locked though, so you couldn't get to the classrooms from the gym because the school was technically closed, so I had to climb the outside stairs, go in, say hello to the school secretary & then go back downstairs inside the building to get to the classroom, I was still about 3 minutes early & stood around in the hall comparing mr 7's work with his classmates while the teacher finished the confrence before mine. The confrence went well, mr7's doing well in math & science, doing ok in reading, not reading nearly enough, it's like pulling teeth to get him to do so. He's a lefty & they're having trouble getting him to space his words, otherwise all is ok. Then on to the line to vote. I'm still blown away by that, in 2004 I literaly walked in the door, voted & walked back out, no wait, other than while the nice lady confirmed my name & address, all of 20 seconds, the other 2 machines (we are talking a very small town here folks,) were empty & the only other person voting whom I encountered was a guy about my age walking in as I was walking out! & this was a presidential election in 2004! Most of the people on the line were elders, most of them knew each other well- that is one large drawback to moving to a small town where people tend to stay instead of leave, almost everyone knows each other & as someone they don't know they ignore you for the most part. I was 40 minutes in line, a lady I used to work with when I worked at a clothing factory here came in not too far behind me & so we chatted a little but when you work with someone, even for nearly 2 years, & have barely seen each other for 8 years there's not a lot you can talk about, especially when you're talking over 4 or 5 people. When we reached the registration table the lady in front of me remarked on the amount of people there, the pollster said they'd been out straight all day & hadn't had a break. & the woman who was in front of me remarked that the turnout was ok with her 'as long as everyone is voting the right way' I stood there fuming & reminding myself that at the very least my vote would cancel hers! (she & her husband had been rather loud in their praise of Allen for the senate- I don't think anyone who reads this blog regularly will be surprised that I voted for Webb, the Democrat) It looks now like Webb has won but the votes still so close that I'm sure we won't know for sure for awhile. After pressing the screen 5 or 6 times to choose my candidates & choices on 3 questions all of which went the opposite of how I voted! (I'm a blue person living in a red state, after nearly 10 continuous years - & 2 or 3 more off & on- I should be used to it by now but I keep hoping! Especially this year!) After finishing that I picked up the kids (I prefer to take them with me to vote but I don't like them to be in the room during parent teacher confrences I think it limits what you can say so they stayed home)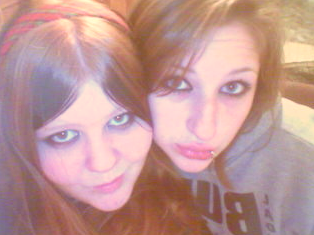 We went to 16's friend's house to pick her up & take her out with us errand running. This particular friend 16 has known since she was 3 & they were in library story time together along with head start, then we moved back to Mass & they lost touch, since they've been in highschool they've renewed their friendship. The friend's mother & I spent a lot of time together back then in 1993 & 1994 but we haven't seen a lot of each
other more than maybe an hour or two visiting here & there when dropping off or picking up kids. They recently moved & so I & 10 & 7 came in to see the new place, it is perfect for them, just like how things worked out for me at my new house, S had a list of things she wanted, like a big room she could use as a studio for her art & she got exactly what she wanted, theres a garage there attatched to the house & the opposite wall from where it's attatched to the ho
use is all windows- unusual in a garage but perfect for a studio! Then off to run errands, get some groceries, meet with a loan officer, I'm trying for a home equity loan to get stairs put in the house, finish the garage for an extra room & fix some plumbing problems (among other things, like pay off some old debts) probably going to be annother week before I know for sure on that I'm keeping my fingers crossed though!
Today, I made my awsome Beef Bourgognonne, (that's how my mother spells it on the recipie anyway) it takes a lot of prep & has to simmer at least 2 or 3 hours but it's well worth it, it was rainy but not too cold today & yesterday here, it's been at least over 50 each day but with the rain it still seems colder. So stew was in order, before starting I went to town to run some more errands, get my soy protein shake stuff (not the best tasting thing but I'm into normal size clothes- I've had some size 24 slacks I bought for like $5 on clearance which I've never been able to fit into & they button & zip up now! I couldn't even get them up over my ass 6 months ago! I can't sit down in them yet so I can't wear them to work yet but I'm getting there! That's the important thing) & that's from just not eating (much) sugar- I still eat a snack size bag of doritos at lunch on my work days & eat what ever we're having at home on my days off. I tried to exersize when I first started trying to behave myself with the sugar thing but I got so winded so easily that I gave up pretty quickly. The rest of the day- as I said the prep on the stew took over an hour- I spent cleaning up the house & online reading other peoples blogs. When the kids got home we got videos & then I made 10 & 7 angry by insisting they clean their rooms. For 7 this is an again, from last week, for 10 this is still- she has piles of stuff all over her room, 16 helped her 6 weeks ago to clean it all up & now it's back to disorder again. 16 gets mad about it but I know when she was 10 I still had to go help her clean her room some of the time - when
it got really bad at least! I can't go help 10 because of the stairs or lack of stairs really, the ladder they use is ok for little people like them but I don't trust it & would not want to chance breaking it so I stay downstairs- annother reason I really want that loan so I can put in stairs.
Here's the recipie for the stew I made tonight, it is really my mothers but my ex & I adapted it to our own tastes & I love it!
Beef Bourgognonne
In heavy sauce pan slowly brown 3 lbs. stewbeef or beef cubes with 3T butter, Sprinkle 2T of flour over meat & stir well, add 1 diced onion, 6 cloves of garlic coarsely chopped, 1T chopped parsely, 1t Thyme, 2 bay leaves, 6 whole or 2T allspice, 2 cans of beef consume, 1 bottle of burgundy cooking wine, (1/2 bottle if you're using real wine, not the cooking kind) bring to a boil, add 1 bag of baby carrots, reduce heat & simmer for 2-3 hours, stirring frequently, 10 minutes before serving add small whole onions to taste (I use frozen ones & we like onions so I use a whole, 8 oz bag) & 1 can of mushrooms, drained (I use a big can or 2 small ones, but then again, we like mushrooms alot) stir in 2T brandy & a pinch of salt.
I usually serve this with parker house rolls, you'll have to look that recipie up, but tonight no one wanted to make rolls so we ran to the store & got pillsbury crescent rolls which miss 10 & mr 7 had a lot of fun rolling up & baking for dinner- its always nice when there's something simple they can help with.
Posted by Becky at 8:39 PM EST