Yes, Yes, annother Meme,
Now Playing: Dreams by Fleetwood Mac
Topic: Stuff & Nonsense
With Apologies (thanks?) to http://ben-gal.tripod.com/

1. Yourself: Worried
2. Your husband/wife: None
3. Your hair: Needs Washing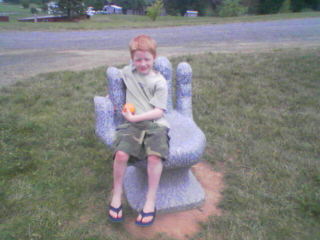 4. Your Mother: Depressed (as always)


5. Your Father: Deceased

6. Your Favorite Item: Item? The Computer or my bed

7. Your dream last night: Can't remember.

8. Your Favorite Drink: Water or Diet Coke

9. Your Dream Home: Log Cabin on a back road right here in my area

10. The Room You Are In: Dim, we need lightbulbs!

12. Your fear: One of my kids dying

13. Where you Want to be in Ten Years? Here, with more money or better yet an unlimited supply of money!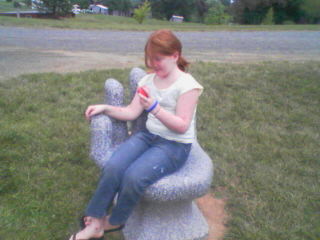 14. Who you hung out with last night: My kids & Chrissie

15. What You're Not: Outgoing & gregarious


16. Your Best Friends: Chrissie, Ann, Jen.

17. One of Your Wish List Items: Unlimited Cash


18. Your Gender: Female.

19. The Last Thing You Did: Washed the Dishes


20. What You Are Wearing: Nightgown


21. Your favorite weather: Warm & Sunny

22. Your Favorite Book: Too many to begin to list


23. Last thing you ate? Steak, Rice Pilaf & Summer Squash & Zuchini from my garden.

24. Your Life: Needs Less Stress

25. Your mood: Calm

26. The last person you talked to on the phone: Chrissie


27. What are you thinking about right now?: Wether to stay online or go watch tv for awhile
Posted by Becky at 10:41 PM EDT