Thirteen & My Family
Now Playing: Gel by Collective Soul
Topic: Family Business
More people than not were saying yesterday that they didn't want to be at work becuase it was the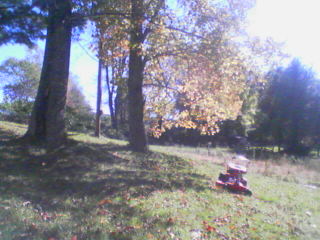 thirteenth, I was amused by this & actually surprised that 1 other person said it was their lucky day, my family for the most part considers 13 their lucky number, (I actually prefer 68 for myself but as a family thing 13 ranks right up there) it all started with my mother's father, he was born June 13, he met my grandmother on July 13, they were married March 13, my Mother was born February 13 & he died on April 13, I know there are more, but those are the ones I'm able to remember off the top of my head, my 16 year old is especially into the whole 13 thing & on the door of her room in the trailer we escaped used to live in she had 2 or 3 Mailbox- type reflective thirteens stuck up. I don't have as much interest in the thirteen thing but when everyone is making such a big deal of it I have to put my 2 cents in! Then Michele had a question about this on her blog too! All in all though, Friday the 13th was a pretty lucky day for everyone in my group at work, it was really dead & we were sitting around available most of the day- they sent the people who work 9 to 530 home at 3 & the ones who work 10 to 630 home at 4 we didn't expect to get to go home because of the 10 hour days we work cause us to be in the high - queue time (usually from 7 forward to about 11 pm) But they actually sent us home! they waited until 7 to do it but they did it, for me that was a really good thing because I was signed up for 2 hours of overtime so I didn't have to stay for that either! (my purse will be sorry in 2 weeks but last night I didn't really mind!) I was reall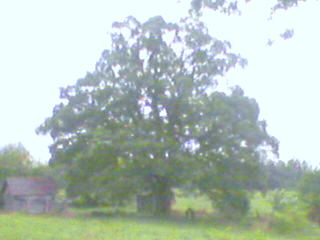 y enthused to leave because Chrissie had just text messaged me to come get some money she owed me from before. So off to Chrissies I went, stopped to get some wine coolers which was a mistake, not for the wine coolers because I don't drink much but because I stopped at a store on top of a mountain & they had 1 option for wine coolers, 3 refrigerator cases full of beer & ale but only 1 kind of wine coolers, Captian Morgans Passion fruit & Mango not too bad but they were OLD - very old, tasted stale, they'd have been better if they weren't stale. I had two, shared Chrissie's life for a few hours & got to check out her new house in depth now that she's got most of her stuff settled in- Looks great, her daughter & a friend were putting her computer together but then, when I went to call 16 & tell her I wasn't dead in the ditch somewhere (She knew I was going but I hadn't meant to stay so late) we found the phone was not working- odd since it was put in Wednesday & had been working since then. Chrissie called the phone company via her cell phone & on their suggestion I went around the outside of the house in the dark with my flashlight & located the phone box on the back of the house, when we got a screwdriver & opened it & found it full of wasps nests! after clearing them out with the screwdriver (it was 9 at night, full dark & about 31 degrees out) we found there were 6, not 1 place to plug in the phone we'd brought out to test the box & the trouble shooter on the phone decided Chrissie needed a tech to come out. Haven't heard from her today so I don't know if the tech showed up or not. I left around 11 & drove home back roads all the way, not because of the coolers, I'd brought garlic pita chips & a caffeine free diet coke & consumed both before leaving so I was plenty ok to drive. But because that's the shortest way, like Mrs Todd in Steven King's Mrs Todd's Shortcut I'm a firm believer in the idea that if I save enough miles I'll save time. I also love Floyd County's back roads & one of my favorite things- before I had to consider a second mortgage to keep the gas tank in my car full- was to drive around aimlessly, checking out where roads went & how they connected with each other- The kids miss this & ask me all the time when we can go back roading,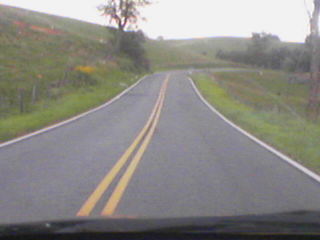 now I have to confine it to getting from where I am to where I'm going- gas is going down though, paid under 2 bucks today for the first time in over 18 months! So I came home & worked out my bills & wrote a couple more checks for bills it turned out I could pay after all this week. & after studying the map to see where a couple of roads I noticed on the way home went to looking for shorter ways from Chrissies to my house.
The county map has a place of honor in my bedside table drawer- demoted from being pinned to my bedroom wall in the trailer & the last 2 rentals I had with my ex - he was on the rescue squad when he lived here & if he left from home to go to a call I would always locate the place he had to go to while he got dressed & ready to go - so he'd know how to get there before he left to go- there's annother in the car & I drive miss 16 nuts when we do go out because I expect her to be able to read a map! I can look & look at maps & always see new things, I noticed 2 or 3 places where there are roads which when you go past the road driving there's a sign which says the road is a dead end, but the maps show that there are cart paths/private roads which do connect with other roads, if they were not private they'd represent serious shortcuts. 16 remembers one of those all too well, the road is dirt, marked clearly as a road, not private, but so rutted & poorly maintained that it looks like a driveway, we were driving along in my old Mustang - Mr 7 was an infant & miss 10 was 3 at the time & only the passenger window of the mustang opened then (damned power windows- one or the other was alway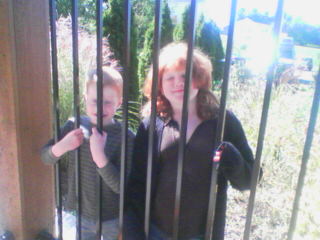 s malfunctioning) so we're tooling along, me bitching about if I break something on the car dad's going to have a fit & I glance over & theres two Rotweiler dogs standing next to their front door, 16 says 'ooh look at the dogs!' Next thing we know one of them has his paws on the door & his head in the window of the car barking & growling as if we had raw steaks in our laps! 16 brought the window up as fast as she could & I floored it. The dog was of the opinion that the entire road belonged to him & followed us all the way to the end where the road ended at annother little road. Needless to say Miss 16 was not enthused the next time I suggested we take a sightseeing ride!
Today was the usual payday-week runaround, check the mail, pay the electric bill in person, get stamps & mail all the other bills, go grocery shopping, a lot of discussion about what everyone is going to be for Halloween & a few small purchases of accessories for the halloween costumes, (horns, tail & pitchfork for miss 10 & a scythe for mr 7- 16 has offered to go as herself {a very scary option!} & I always go as a hippie or a heavy metal rocker, both things I have the clothes for in my regular wardrobe) No dinner out this week though, things should start getting better in the next few weeks as I'm still, even with the hour off, up by 2+ hours of overtime last week & hopefully I can do at least annother 3 or 4 hours this week. We were back home before 3pm- unusual for us but we'r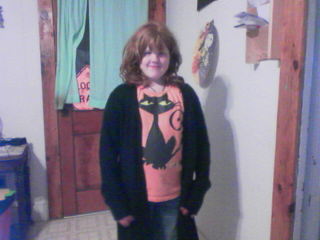 e going to watch a scary movie on dvd (haven't decided between Sleepy Hollow & From Hell- yes, I have a Johny Depp addiction- get over it!) but that's the plan for the evening. Miss 10 was absorbed in taking pictures to email to my mother (she's a novice in email & I'm trying to teach her to attatch pictures etc. Here she is in all her glory:
Posted by Becky at 6:01 PM EDT
Updated: Saturday, October 14, 2006 6:28 PM EDT